AIRPORTS

MANAGE TRAFFIC AT THE TERMINALS AND CURBSIDE
Airport managers access business intelligence of vehicle movement
Supervisor App
Traffic managers log into a customized app, and they select the curb spot that is free and assign it to a driver waiting for pick-up. This process may be automated and it decongests pick-up zones outside busy terminals.
Airport Portal
Airport Mangers log into a web-based portal to add and access all registered commercial transporters for crew and tours. They manage vehicles, permits and drivers on this system and they view live traffic patterns.
Airport Toll Collections
Airports wishing to levy a toll on all commercial vehicles coming into the airport can do so by implementing our automated system. Cameras connect to readers that connect to our database and charge a fee to the transporter.
Think Innovation – manage airport traffic and permits, monetize the process
Experience
UTWiz has been at the forefront of providing innovative mobile technology for airport transport management that is capable of integrating with any airport system.
Intelligence
Airlines love your airport because you are able to give them accurate wait times for their crew transport – every day and for all flights, crew love this technology as it cuts their wait time.
Transparency
Our driver apps connect to crew app and kiosks at terminals. All activity is reflected on the supervisor app, the airport portal and the airline portal.
Feedback
Airport authorities get to know what regular users think of the transport facilities by getting access to feedback from crew and commercial drivers.
KNOWHOW AND CUTTING-EDGE TECHNOLOGY
UTCrew App
All flight crew members landing at your airport are able to collect their bags and e-hail their hotel shuttle or their chartered van. This cuts waiting time for crew and cuts congestion on the curbside.
UTRover App
Drivers of chartered transport wait in the parking or holding lots till they see an alert on their app that their passengers are ready to board – no driving around in circles
UTShuttle App
Drivers of hotel shuttles use this app to view how many guests are waiting at what stop, and hotel guests do not need to wait on the curbside until their pick-up is near.
Customization
for Airports
We customize the dashboard and the software to suit each airports unique traffic management needs.
Simple Apps
for Efficiency
Every transportation user at the airport is given quick access to live information and is connected to their drivers.
Monitoring System
Adds Value
Airports looking to monetize the transport processes can look beyond granting permits, they can easily implement automated toll collection.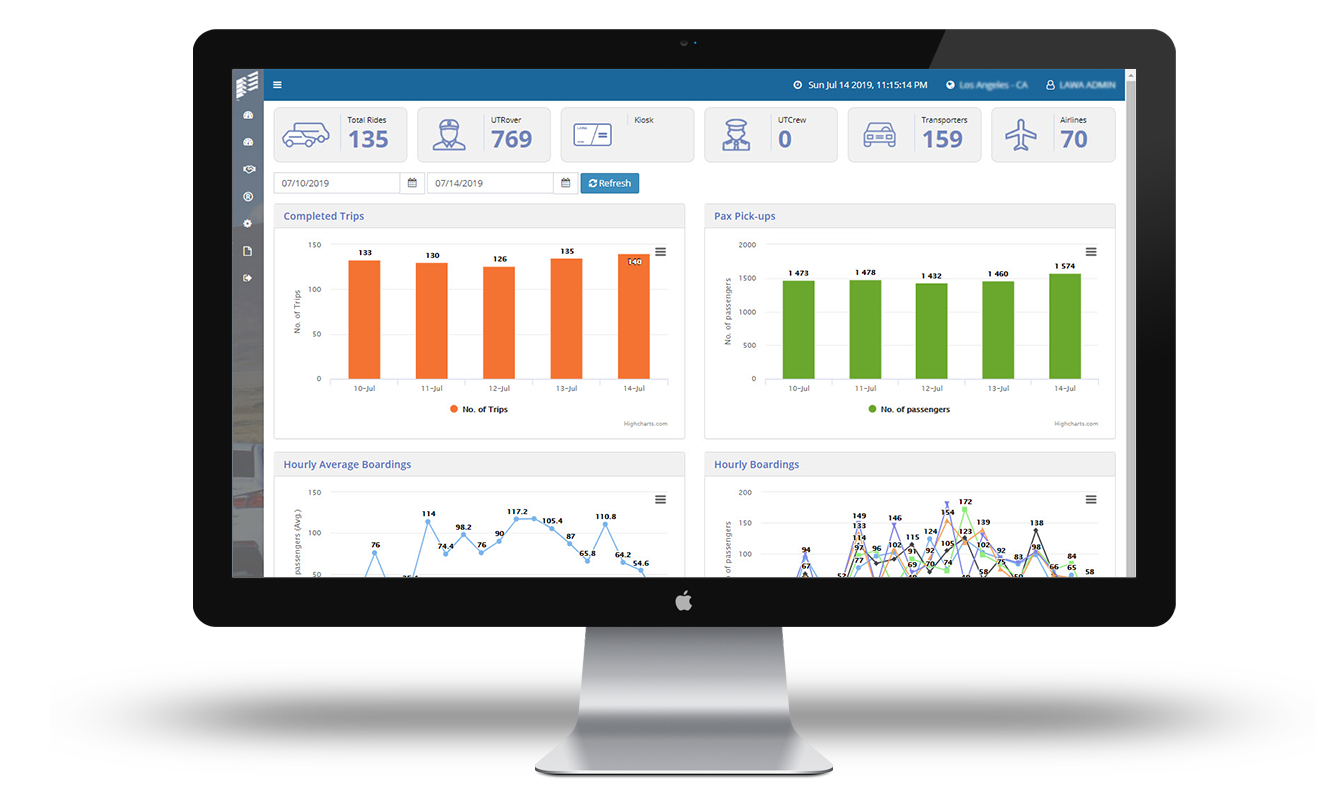 Airports Transport Management by UTWiz
UTWiz provides a complete automated traffic management solution to decongest terminals, and to give managers a transparent overview of operations at the airside, landside, terminals, parking lots and holding lots.
Permit management system for commercial vehicles and drivers is automated. Supervisors get access to a dashboard that allows them to e-manage curb slots outside each terminal.
Business intelligence on average wait times for airline crew and tour groups is available to managers, and bottlenecks in traffic flow are identified.